Grand Rapids Dentist



If you are looking for the best caring, qualified dentist or cosmetic dentist staff in the West Grand Rapids area that specializes in teeth whitening, veneers , smile makeovers, dental implants, and wisdom teeth removal, then look no further. From your first contact with our office, you will notice that WestSide Dental is not your typical dental office. We've worked hard to build an exceptional team of dedicated, experienced, caring and top professionals committed to the dental health of you and your family.
We know every patient's dental needs are unique. That's why our dentists offer a comprehensive selection of teeth whitening, veneer, wisdom teeth removal and additional treatment options that can be personalized to meet your unique needs and expectations, all while in a comfortable, convenient atmosphere. Dr. Mulder and her team place special emphasis on taking great care of both the smile and the person behind it. Our mission is to provide the highest quality dentistry and patient care available to Grand Rapids residents.
To learn more about our comprehensive dental service offerings, exceptional dentist and office procedures, we invite you to take a few moments to look over the informative pages on our website. You can also learn more about our top Grand Rapids dentist, and our teeth whitening, smaile makeover veneer and wisdom teeth removal procedures by calling our office or stopping in!
Our services include: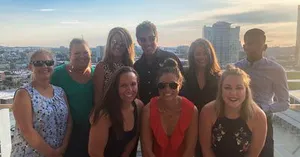 Welcome to Westside Dental GR

We want your first visit to be more about getting to know you and less about paperwork, so we recommend printing the new Patient Forms and completing them in advance of your initial appointment. All dental patient forms and information can be found by clicking on our 'New Patient' link above.
We always welcome new patients of every age. Whether you are new to Grand Rapids, looking for an affordable cosmetic dentist or seeking an improved dental experience, we invite you to Contact Us for additional information. We are conveniently located in West Grand Rapids. To help keep cosmetic and dental procedures affordable and accessible to all of our patients, we offer payment options so you can get the wonderful smile you deserve while staying within your budget.