Governor Places Mandates on Dental Offices
Temporary Restrictions on Essential and Non-Essential Medical and Dental Procedures
March 20, Gov. Gretchen Whitmer signed Executive Order 2020-17 (COVID-19). This order imposes a temporary ban on all nonessential and/or elective dental and medical procedures.
Executive Order 2020-17 states that hospitals, freestanding surgical outpatient facilities, and dental facilities, and all state-operated outpatient facilities, must implement a plan to temporarily postpone all non-essential procedures until the termination of the COVID-19 state of emergency.
To mitigate the spread of COVID-19, protect the public health, provide essential protections to vulnerable Michiganders, and ensure the availability of health care resources, it is reasonable and necessary to impose temporary restrictions on non-essential medical and dental procedures.
Our health care workers are on the front lines every day protecting Michiganders during these extraordinary and difficult times. By postponing all non-essential medical and dental procedures, we expect to reduce the strain on the health care system and protect people. This will free up staff and critical resources that will be needed to address the ongoing public health emergency that we are facing.
As you know, your safety, care and well-being; as well as that of our team has always been our top priority. Therefore, we have been closely monitoring the CDC, WHO, and MDA guidelines in the midst of the COVID-19 pandemic and letting them direct our decisions for patient care.
At this time our office will officially be closed for all non-essential and/or elective dental procedures until May 4th . Both Dr. Jerry and Dr. Allyson will be available for emergencies only, on a limited as-needed basis from now until we re-open. I f you have any questions regarding your dental care, or have urgent concerns, please give us a call or send us a direct message. Drs. Mulder is committed to remaining available to our patients for any concerns. Instructions for getting in touch with them are on our respective office's voicemails—WSD can be reached at 616-453-5331; A Life of Smiles at 616-458-0631 (ext #1); and TMJ & Sleep Disorders of MI Office at: 616-458-0631 (ext #2) . We also will be checking our voicemails, FB direct messages, and text messages regularly.
Our team will continue to monitor the evolving situation, and continue to comply with the state & national recommendations. If anything should change, and an extended closure past April 13th is required, we will release an update and communicate with any affected patients. If you have an upcoming appointment, you will be contacted.
Thank you for your understanding and patience during this abnormal and difficult time. We look forward to getting back to normal operations as soon as possible! Please be safe, wash your hands, avoid crowds, and be smart! Thank you for being our patient!
Dr. Allyson Mulder, Dr. Jerry Mulder and Team
Grand Rapids Dentist



If you are looking for the best caring, qualified dentist or cosmetic dentist staff in the West Grand Rapids area that specializes in teeth whitening, veneers , smile makeovers, dental implants, and wisdom teeth removal, then look no further. From your first contact with our office, you will notice that WestSide Dental is not your typical dental office. We've worked hard to build an exceptional team of dedicated, experienced, caring and top professionals committed to the dental health of you and your family.
We know every patient's dental needs are unique. That's why our dentists offer a comprehensive selection of teeth whitening, veneer, wisdom teeth removal and additional treatment options that can be personalized to meet your unique needs and expectations, all while in a comfortable, convenient atmosphere. Dr. Mulder and her team place special emphasis on taking great care of both the smile and the person behind it. Our mission is to provide the highest quality dentistry and patient care available to Grand Rapids residents.
To learn more about our comprehensive dental service offerings, exceptional dentist and office procedures, we invite you to take a few moments to look over the informative pages on our website. You can also learn more about our top Grand Rapids dentist, and our teeth whitening, smaile makeover veneer and wisdom teeth removal procedures by calling our office or stopping in!
Our services include: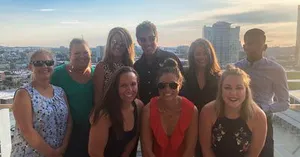 Welcome to Westside Dental GR

We want your first visit to be more about getting to know you and less about paperwork, so we recommend printing the new Patient Forms and completing them in advance of your initial appointment. All dental patient forms and information can be found by clicking on our 'New Patient' link above.
We always welcome new patients of every age. Whether you are new to Grand Rapids, looking for an affordable cosmetic dentist or seeking an improved dental experience, we invite you to Contact Us for additional information. We are conveniently located in West Grand Rapids. To help keep cosmetic and dental procedures affordable and accessible to all of our patients, we offer payment options so you can get the wonderful smile you deserve while staying within your budget.